Gutter Cleaning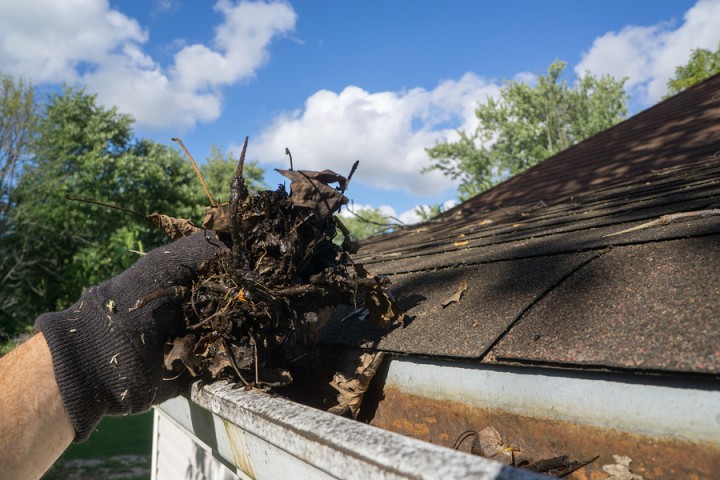 Gutters are one part of the house that is ignored until they need cleaning. The gutters serve the important role of collecting and directing rainwater from the sky, and down to the ground, away from your windows, siding, and foundation. When clogged with leaves, gutters are not able to function properly, and damage often ensues.
---
Call for a FREE Quote
---
What's Dragging Your Gutters Down?
Over time, twigs, and leaves start to clog your gutters and the built-up debris will begin to weigh your gutters down. This can cause damage to your home and its structure. Plus, once gutters are clogged, they will no longer function properly which can cause leaks inside your home from seeping water. Clogged gutters make nice homes for insects. They also become very heavy when full and wet, which pulls down on eaves and can lead to structural damage to your building. Gutter cleaning may not be on the top of your "want to do" list, but it is important. Northcoast Roof Repairs LLC can keep your gutters clear of debris.
Northcoast Roof Repairs LLC Gets Your Gutters Clean
When you're looking for a reliable company to help clean your gutters, call Northcoast Roof Repairs LLC. We've been cleaning gutters and downspouts since 1981 and will rid your gutters of the unwanted debris. Don't take on the stress and difficulty of trying to clean the gutters yourself. Call Northcoast Roof Repairs LLC! Our trained gutter cleaning team has the proper tools and experience to safely and effectively.
Clean, Clear & Functional
Whether you want a one-time gutter cleaning or want to set up a routine gutter cleaning maintenance schedule, the crew at Northcoast Roof Repairs LLC will save you time, money and hassle! We always arrive on time and offer competitive pricing to get those gutters clear and ensure they are in proper working order. Call Northcoast Roof Repairs LLC to get water away from your building at (440) 266-4490.
---
Call for Fast FREE Quote
Dial Area Code first please.
---